Vertical Type Automatic Sterilizer 50 Liter SA 300 VMA
INTELLIGENT DESIGN FOR YOUR PROFESSIONAL CHOICE

1.1 The innovative and versatile autoclave which combine compact and elegant design with high performance , reliability and safety

1.2 Intelligent design sterilization programme with pre - vacuum and dry- vacuum

1.3 Installed twenty -four (24) programme and special p[rogramme for PRION sterilization , RE-DRY (Liquid), BOWIE -DICK test , PUMP test programs for your selection.


Pre- vacuum function : Offer the execellent sterilization result . (Pass the BOWIE -DICK test with AAMI guideline )
Dry - vacuum function : To offer the perfect dry result .
Microprocessor control system : Fully automatic control from pre - Vacuum to dry
Automatic add water into the chamber after first cycle pmvacuum.
Dual water level check device: One for water tank, and the other for chamber water level check.
Pressure door auto-lock device: The door can't be opened, when chamber pressure is over 0.2 kgf /cm2 .
Door open indication: Indicates the chamber door is open or not closed fully.
Cycle complete indication: Auto-check each working steps condition.

The "COMPLETE" indicator will light on, if full cycle in correct condition.
Low water alarm and indication: If water isn't enough, the

"LOW-WATER" indicator will light on, and alarm you.
Proheating program: Pre heating by dry heater, which is not only

keep the chamber temperature in balance, but also to offer the

perfect dry function"

.

Temperature control function: Temperature control in sterilization cycle,

and temperature protection to each heater by separated devices.
Chamber pressure with double protection: The chamber is protected

by pressure switch and steam pressure safety valve.
Emergency key device: Press "EMERGENCY" Key 3 seconds will

stop program and exhaust the chamber pressure at the same time.
RE-DRY: Standalone program which can be used separate from the

standard sterilization programs. The unique dry performance keeps

your instruments in good condition and prolongs their lives.
Specie| PR|ON sterilization program,
Special BOWIE-DICK test program: The users can identify the perfect

sterilization function with this program.
The "ERROR" indication, to help the users and engineers to Dnd the

function problem automatically.
LIQUID steHlization program: It is a special program designed for laboratories

*Re-Dry for SA-3OOMA only. LIQUID for SA-3OOVMA only.

Vertical Type Automatic Sterilizer 50 Liter SA 300 VFA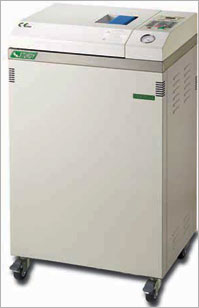 FEATURES:
INTELLIGENT DESIGN FOR YOUR PROFESSIONAL CHOICE:


A New patented unique swing door designation, easy for door open/close and safety.

A The innovative and versatile autoclave which combines compact and elegant design with high performance is reliable and safe. With auto-dry function, it offers great dry result.

Auto-chamber water level check, when you START the program.

Pressure door auto-lock device. The door can't be opened, when chamberpressure is over 0.2 kgf/cm2.

Door close indication: All functions stop, if the door isn't securely closed.

Cycle complete indication: The "COMPLETE" indicator will light-on, if full cycle is in a correct condition.

Low water alarm and indication: If water isn't enough in the chamber, the "LOW WATER" indicator will be illuminated with buzzer.

Pre-heating program: Pre-heating by dry heater not only keeps the chamber temperature homogenized, but also offers the good drying result.

Independent temperature protection switch offers double safety system.

LIQUID sterilization program: It is a special program designed for laboratories.

MODEL NO.
SA-300VFA
Product name
(CLASS-S) Vertical TYPE AUTOCLAVE STERILIZER
Overall dimensions (mm)
600 (W) x 980 (H)x 450 (Dep.)
CONSTRUCTION
Chamber & Door: Stainless Steel #304
Net weight
81 kg
Chamber size (mm)
(I) 300 (Dia.) x 710 (Dep.)
Chamber capacity
50 Liter
Capacity of water tank
N/A
Water consumption per cycle
1000-1200 cc
Power supply
230V 50/60Hz
Power consumption
2900W / 13 Amp, Heater 2300W, Dry Heater 600W
Standard accessories
ST. ST. 304 Sterilization Basket x 2, Heater Cover x 1, 2000cc Bottle x 1, Clip x 1, Exhaust Hose x 2
Size of Basket: 0 250 (Dia.) x 251 (H) / mm
Certificate
CE 0434 MDD, CE 0575 PED
FEATURES
• Fill Water System
Auto-Fill water system
• Pressure Display
Pressure Gauge
. Program (Function) Display
LED Display
• Indicator Light
Power, Add-water, Heat, Ster., Exhaust, Dry, Complete, Door Closed, Low Water,
Overheated / Over pressured
• Program For Selection
121°C / 135°C, Wrapped / Unwrapped, Dry / Un-dry, Liquid
• Sterilization Temp. Selection
121°C / 135°C
• Dry Function
Auto-Dry function, Dry time 30 MIN.
<![if !vml]><![endif]>
• Pressure Safety Valve
Setup to 2.6 kg f/crin2
• Over Pressured Protection
Pressure Protection Switch x 1
• Overheated Protection
Independent Temp. Protection Device W/ Warning LED
• Electric overload protection
20 amp no fuse breaker x 2
• Door lock
Micro switch sensor w/ warning LED
• Pressure door auto-lock
Yes
• Chamber water level
Water level sensor operating during " add water" phase (in 5 minutes) w/ warning led
• Vacuum Release switch
Yes
Life Time
7 Years