The plusoptiX A09 is a binocular handheld autorefractometer named "Emily".

1) Application

In a matter of seconds, the plusoptiX A09 simultaneously measures the refraction of both eyes (binocular) at one meter distance from the child.

The measured values correspond to the results of a retinoscopy in un-dilated pupils.

The measurement can also be executed in cycloplegia. However, it is to be noted that the pupils do not become larger than 8 mm in diameter. One diopter must be extracted from the measured refraction values. This correction is required because the plusoptiX A09 is designed for measurements in miosis. One diopter for accommodation at one meter distance is to be considered in the measurement result.


2) Advantages

The measurement at one meter distance is reliable and delegable. Even children with nystagmus and uncooperative patients can be measured in less than one second with the plusoptiX A09. It is possible to measure refraction over already existing glasses or contact lenses. If a retinoscopy in cycloplegia is necessary, it proceeds quickly due to the existing measurement values, especially from cylinder and axis, and you have a comparison value. The plusoptiX A09 considerably simplifies the initial examination of babies and toddlers in your practice.


3) Measurement results
Refraction (sphere, cylinder and axis)
Symmetry of corneal reflexes
Pupil diameter and pupil distance


The one meter measurement distance prevents the usual device accommodation with autorefractometers and therefore delivers no false myopic results.

How does the plusoptiX A09 differentiate itself from other autorefractometers commercially available today?

1. The plusoptiX A09 measures the refraction in sphere, cylinder and axis for both eyes simultaneously (binocular).
Advantages:

a) An anisometropia is easily diagnosed even without dilating drops.
b) Risks of possible side effects from dilating drops are eliminated.


2. The measurement occurs at one meter distance without any contact.
Advantages:

a) No device myopia arises during the measurement at one meter distance.
b) Pleasant for child, parents and examiner. The child remains under

parents' care during the measurement and therefore has no anxiety.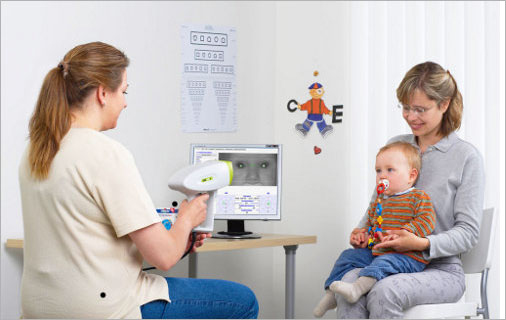 3. The measurement is fully automated and takes only seconds.
Advantages:
a) The measurement can be delegated.
b) If there is no vision disorder, the parents' length of stay in your practice with their children is thereby decreased to a few minutes.

4. Both eyes' corneal reflexes are recorded simultaneously during the measurement.
Advantages:
a) Line-of-sight monitoring during the measurement prevents false measurement results.
b) Non-symmetrical corneal reflexes can be an indication for strabismus.

5. The pupils of both eyes are shown on the monitor during the measurement.
Advantage: Central located media opacities, like cataracts, are clearly diagnosable


6. In addition, the pupil diameter of both eyes and the PD are also indicated.
Advantage: An anisocoria is easily diagnosable.