Economical
Portable
Bilateral-Mode
Accurate
Fast
IOP Correction Calculation
All the Features of the most expensive pachymeters, at an economical price. Brought to you by the World's leading producer of ultra-high quality pachymeters since 1982. DGH Technology, Inc.

New Economical Portable Pachymeter
DGH Technology, Inc. announces a new low cost portable pachymeter. The DGH Model 555 PACHETTE 3 will enable eye care professionals to measure corneal thickness faster and easier utilizing improved ultrasound technology. The PACHETT 3 uses the exact enhanced corneal thickness measuring algorithm used in all the DGH pachymeters used exclusively by the OHTS investigators. The DGH Model 555 PACHETTE 3 is capable of measuring and storing up to 25 measurements bilaterally in as little as 1.6 seconds per eye. The IOP correction calculation is built into the software. The new backlit LCD character displays OD and OS measurements, running average, standard deviation and IOP correction calculation and allows easy visibility from a distance over a large viewing angle, and in all lighting conditions. Portable and lightweight, the PACHETTE 3 weighs only 0 .8 kilograms. Powered by two (2) AA NiMH rechargeable batteries The PACHETTE 3 probe is solid filled and has a clear polystyrene tip only 1.5 mm in diameter for easily visualizing the center of the cornea.

The DGH Model 555 PACHETTE 3 is ideal for glaucoma and refractive surgeons, DGH Technology, Inc manufactures ultrasonic measuring devices for cataract and refractive surgeons of the 21st century. Since 1982, DGH Technology has set the standard for measuring corneal thickness around the world.

Width 6.25 = 15.56 cm
Length 4.06 = 10.32 cm
Depth 2.25 = 5.72 cm
Weight 1.4 Lbs = 0.64 kg

DGH-550 Pachette 2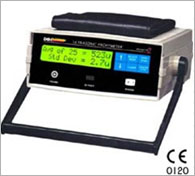 The DGH-550 PACHETTE 2 is designed for Glaucoma & LASIK Screening. Now CE Approved.
Standard Features
Simple to use. Turn on power and the Pachette 2 is ready to take measurements.
Automatic measurement mode for operation without a foot switch.
Obtains multiple measurements very rapidly at a single location.
Simultaneously displays the current measurement and the average of all measurements taken.
A single applanation automatically stores up to 50 measurements.
Large 16 x 2 LCD character display allows easy visibility from a distance over a large viewing
angle and in all lighting conditions.

Optional Features
Standard deviation calculation display (No Extra Cost)
FLAP Option measures the flap down to as little as 95 microns.
Mapping mode for obtaining actual and biased corneal mapped measurements.
Printer interface for sending pachymetry data to a serial printer.
Data transfer interface for sending pachymetry data to a personal computer.